Known as "longevity food," sweet potato features high and stable yield, wide adaptability, and strong resistance to stress, drought, and other factors. Seasons with abundant rain are the best time to plant sweet potatoes. However, in the process of sweet potato planting, there are many kinds of pests that can be detrimental to this crop. These include stem mites, hawk moths, leafhoppers, leaf beetles, small armors, wireworms, scarabs, mole crickets, cutworms, prodenia litura, aphids, and whiteflies.
Careful precautions have to be taken in order to avoid serious losses due to insects. For this type of prevention, let's take a look at how Hainan Zhong-Nong UAV Service Technology Co., Ltd. kept prodenia litura under control with DJI's MG-1P.
Team Introduction
Hainan Zhong-Nong UAV Service Technology Co., Ltd. has over 120 employees, with 80 UTC-certified professional pilots. It has established UAV plant protection centers in Zhangzhou, Changjiang, Dongfang, Ledong, Lingshui, Sanya, and Qionghai, providing local farmers with accurate, efficient, and low-cost plant protection services.
So far, the company has completed work on approximately 658,956.9 acres of different crops, including rice, pumpkin, corn, green soybeans, mango, lychee, grapefruit, medlar, coconut, and betel nut. The spraying operation for this case was handled by the No. 4 Plant Protection Team of the Ledong Service Center. The team currently has eight members, five MG-1S units and one MG-1P unit.
Environment Information
| | | | |
| --- | --- | --- | --- |
| Operation Date | Land Type | Location | Conditions |
| March 21, 2018 | Mostly flat with a few hills | Haitou County, Zhangzhou City, Hainan Province Southernmost China | Cloudy, 15-24°C, and high-voltage power line towers in the surrounding area, with wires crossing the field diagonally. |
The operation area was approximately 74 acres. The field was divided into two sections by cement pavement that ran between them. The land was mostly flat, with a few hills in the area.
Operation Parameters
| | | | |
| --- | --- | --- | --- |
| Operation Mode | Flight Route Planning | Flight Speed | 2.8 m/s |
| Flight Altitude | 1.5 m | Operation Spacing | 4 m |
| Liters Per Acre | 12 L | Nozzle Type | XR11001VS |
* Drone: DJI MG-1S × 1/DJI MG-1P × 1
Considering the relatively large area and irregular land, we used the MG-1S and MG-1P together. With the MG-1S, we planned the flight route by walking along the boundary of the smaller field. With the MG-1P, we planned the flight route by flying the aircraft over the larger field to mark the waypoints. After the route was set, we edited and uploaded the missions to begin the spraying operation.
Due to hot weather and the severity of insect damage, we enabled Intensive Spraying mode and set the flight speed to 2.8 m/s, to improve operational efficiency and effectiveness.
Pesticide Information
| | | | |
| --- | --- | --- | --- |
| Pesticide Name | Type | Concentration of Active Ingredient | Amount per acre |
| Chlorfenapyr | Aqueous solution | 25% | 180ml |
| Helicoverpa armigera nuclear polyhedrosis virus | Aqueous solution | 30% | 480ml |
Our chemist recommended the pesticide used in this case. An aqueous solution was used instead of a dissolvable powder, which is better for spraying with a drone. Additionally, polyhedrosis virus is a new type of pesticide which is incredibly potent and can effectively overcome the pesticide resistance of certain insects.
Before & After Drone Spraying
Before spraying. It is clear that the leaves have been bitten by insects.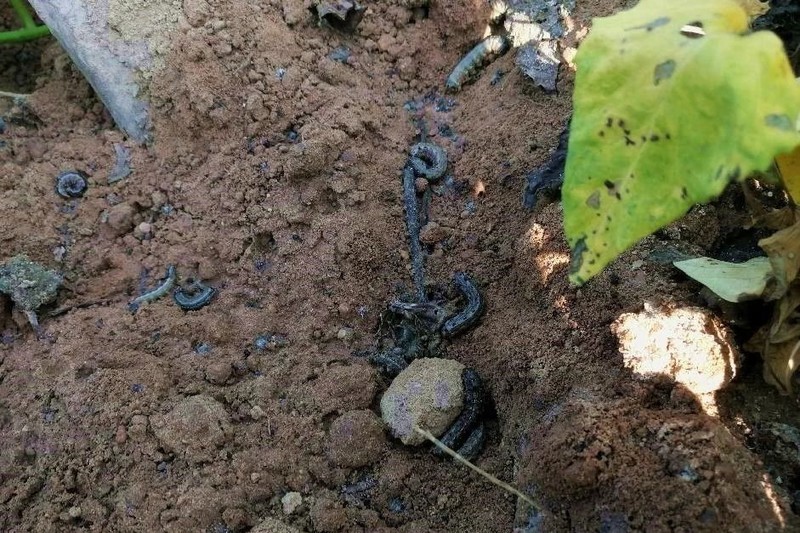 Dead insects that fell to the field after spraying.
Conclusion
In total, two plant protection drones were used during this operation. The MG-1P supports automatic waypoint marking and flight route planning, which saves a lot of time. From preparation to completion, the operation took only five hours.
Thanks to the pesticide that was useful and suitable for drone spraying, the amount of pesticide sprayed and the flight speed were quite efficient. The results have also verified the effectiveness of our solution. The dead insects on the ground have proven the safety and reliability of DJI's agricultural drones.
This is the first time we have used the MG-1P in spraying operations for sweet potatoes. This case has been an unexpected yet successful result for us. The field planning, upgraded spraying system, visible atomization, and improved spraying effects have been a welcomed result.
Source: https://ag.dji.com/case-studies/dji-ag-case-en-sweet-potato
Warn prompt: Τhe content and parameters provided here are just for your reference. You should adjust the operation mode and the parameters and use a correct way to spray your field according to the different weather, the crop characters, the habit or history of using chemicals (you could change other chemicals in case that the resistance occurs), etc. If you are not sure what operation parameters you will choose or not sure about the spraying efficacy, then you should firstly do a small plot test in this field before a big area spray.